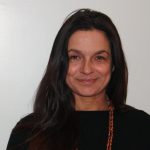 Bettina has had 11 radio plays produced for BBC Radio 4, two theatre plays, Singh Tangos and Gandhi & Coconuts produced by Kali Theatre, an operatic monologue It's Ten pm and They're Late produced by Tete a Tete at Riverside Studios and a one-off TV drama, The Wedding Party by BBC Choice. Her stage play Other was long-listed for both the Verity Bargate and the Manchester Exchange Awards, Jallebies and Tea was nominated for the Race in the Media Award, My Name is Iqbal (theatre version) was short-listed for The Ice and Fire Award. Her radio series The Plot won the Sony Gold Award and My Name is Iqbal Masih won the Clarion Award for best radio drama.
'The Catholic Boy' was part of Kali's Honour Killing Season. 'Lhasa' was read as part of  Women and War.
Bettina's stage play 'Watching You' won the Sultan Padamsee Award for best theatre play in Mumbai 2018.
Bettina's monologue 'Jakinta' was commissioned as part of Kali SOLOS. Bettina  received funding from the Arts Council to extend it to a longer piece which won Web Piece of the month at the Druka Festival in Bhutan.
Kali Productions:
by Bettina Gracias

November 2010 - February 2011

by Bettina Gracias

April 2002