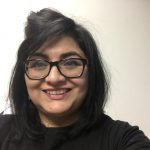 Yasmin is a Youth Worker, Writer, Presenter, film producer & Social Activist
Youth Work: Full time youth worker for City and Islington Sixth Form College from 2002 to current.
Talks & Interviews include: BBC Radio 4, Front Row, television, Beyond These Walls – Ritla Shah, BBC Frontrow – Mark Lawson, Theatre Voice- Dominic Cavendish, ICA, Kings College, The Theatre Museum and the Archway Literature Festival, Notre Dame University–Indiana.
Produced Scripts/Publications: Reshaam (Silk), Love Stomp, Pleasure and Pain, Lucy, Telephone Love, In No Sense, Bells (Much critical acclaim-translated/ performed around the world), Twelve, Porcelain Dolls, BBC Radio Asian soap, Silver Street and written /produced short films Lemon Juke Box & Le Grand Jour, Jihad Of The Mind. Co-presented, researched and scripted a series for Anglia TV.  Yasmin has written for various publications including Index On Censorship, English Pen and Women's Own. She was a guest columnist for the Mail On Sunday. She has also written and consulted on a variety of social/political topics.
Residencies: Theatre Royal Stratford East, Islamabad/ Lahore National College of Arts, Notre Dame University, Indiana and the Arvon Foundation.  She helped launch the first ever national playwriting course in Pakistan at the National College of Arts in Islamabad and Lahore. Associate with RIFCO Theatre Company, script development with Kali Theatre Company.
Currently she is writing an autobiographical fiction Pork Chops & Chappatti's, and a fantasy children's book set in London. Designing two cultural heritage projects between London and Pakistan bridging the gap in cultural heritage and identity.
Kali Productions:
by Yasmin Whittaker-Khan

April - May 2005