Productions
TWELVE
Friendship | First Love | Defiance | Survival.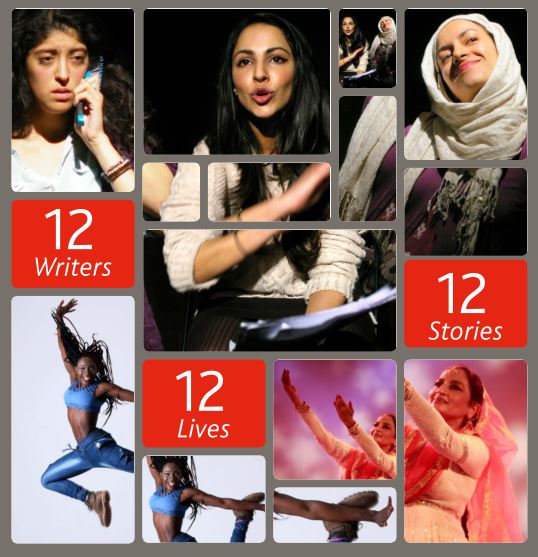 April 2015
Brentford, Birmingham & Shoreditch
12 writers, 12 stories.
Twelve moving, touching and humorous stories of friendship, first love, defiance, death and survival inspired by reports of young women murdered by their families in the UK where on average twelve such killings occur each year. Twelve stories are interwoven with traditional and contemporary dance to create a unique theatre experience that gives voice to these lost lives.
Written by Sonali Bhattacharyya, Sharmila Chauhan, Satinder Chohan, Azma Dar, Tanika Gupta, Bettina Gracias, Sayan Kent, Yasmeen Khan, Anu Kumar, Amber Lone, Nessah Muthy and Yasmin Whittaker-Khan.
About the play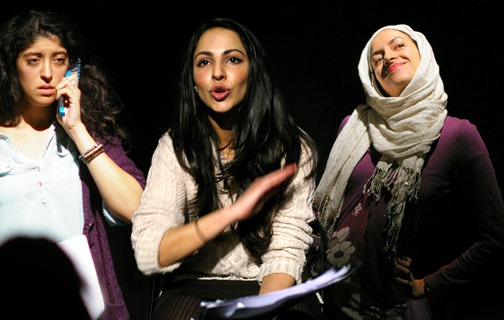 Kali's Artistic Director, Janet Steel brought together twelve writers and a choreographer to explore this politically burning and culturally sensitive topic by researching twelve real-life stories of women like Samaira Nazir, murdered for falling in love with an unsuitable boyfriend and Shafilea Ahmed, killed by her father after rejecting an arranged marriage proposal.  Drawing on the statements of survivors, witnesses, and support workers, each writer then wrote a piece inspired by the life and death of one of these women.
The blend of classical Kathak and modern Laban dance was choreographed by internationally known dancer and campaigner Sheema Kermani.
Sheema Kermani is the founder of Tehrik-e-Niswan, a cultural arm of the Women's Rights Movement in Pakistan. For over three decades, this fearless and renowned classical dancer has led a battle against cultural oppression in Pakistan by staging shows on subjects that are not easily talked about in that part of the world. In 2005 she was nominated as one of the "1000 Peace Women from across the Globe" for the Nobel Peace Prize.
You can hear Janet Steel talking about Twelve on the BBC Asian Network here (Fast forward to 1hr 27min)
Venues
Brentford
Watermans Arts Centre
40 High St, Brentford TW8 0DS
April 14 – 15 2015, 7.30pm
Birmingham
Mac Birmingham
Cannon Hill Park, Queen's Ride, Birmingham B12 9QH
April 16 – 17 2015, 8pm
London
Rich Mix
E5-47 Bethnal Green Rd, London E1 6LA
April 19 2015, 7.30pm
Cast | Creatives | Crew
Cast and Crew
Writers
Sonali Bhattacharyya, Sharmila Chauhan, Satinder Chohan, Azma Dar, Tanika Gupta, Bettina Gracias, Sayan Kent, Yasmeen Khan, Anu Kumar, Amber Lone, Nessah Muthy and Yasmin Whittaker-Khan
Cast
Patience James, Sheema Kermani, Maggie O'Brien, Aryana Ramkhalawon, Harvey Virdi, Amina Zia
Choreography
Sheema Kermani
Dramaturg
Sunila Galappat
2013 Cast
Esther McAuley, Yasmeen Khalaf, Joanna Burnett, Amina Zia, Shobu Kapoor, Aryana Ramkhalawon, Clare Perkins, Sukhraj Dhillon, Robin Griffith, Maya Saroya, Avita Jay, Komal Amin, Mariam Haque, Divian Ladwa, Goldy Notay, Asif Khan, Ulrika Krishnamurti, Sakuntala Ramanee, Yasmeen Khan, Valmike Rampersad