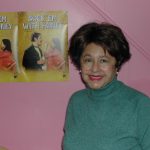 Internationally acclaimed Bapsi Sidhwa is an award winning Pakistani novelist striving above all to bring women's issues of the Indian subcontinent into public discussion.
Bapsi was raised in Lahore, Pakistan. She now lives in Houston, Texas. She graduated from Kinnaird College for Women, Lahore. Her 5 novels: Cracking India,The Pakistani Bride, The Crow Eaters, An American Brat, and Water, have been translated and published in several languages. Her anthology City of Sin and Splendour: Writings on Lahore was published in 2006.
Among her many honors Sidhwa received the Bunting Fellowship at Radcliffe/Harvard, the Lila Wallace-Reader's Digest Writer's Award, the Sitara-i-Imtiaz, Pakistan's highest national honor in the arts, and the LiBeraturepreis in Germany and the 2007 Primo Mondello Award in Italy.
Cracking India (a New York Times Notable Book of the Year and a Quality Paperback Book Club selection), was made into the film Earth by Canadian director Deepa Mehta. Her novel Water is based on Mehta's film of the same name.
Sidhwa's play, An American Brat, was produced by Stages Repertory Theater in Houston March 2007. It played to full houses and received critical acclaim. Her play, Sock 'em With Honey, produced by Kali, played in London in 2003.
Kali Productions:
by Bapsi Sidhwa

March 2003