The enigmatic, indefinable Noor Inayat Khan was an unlikely recruit to the SOE as an undercover wireless operator. How did she face off Fascism with such courage and resilience and evade capture longer than any of her counterparts?
Noor's moving and inspirational story takes us across borders and time into a shadowy world of espionage, as British officer Vera Atkins and Gestapo Major Hans Kieffer trade secrets to uncover the woman behind the code names. From her Sufi mysticism to her astonishing creativity, Noor's individuality was ultimately her greatest strength.
Recommended for ages 14+
This production depicts the use of firearms and simulations of violence and torture. It also includes loud noises.
Writer

Azma Dar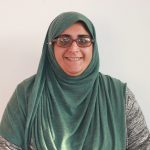 Azma has written for theatre, radio and screen. Her novel The Secret Arts has been published as an e-book by Dean Street Press.  A chapter from this won the New Ventures Writing Award and her play Vampire in Bradford won the New Perspective Long Play Competition. Azma has also worked on several community projects, including […]
About the writer