Administrator Job Description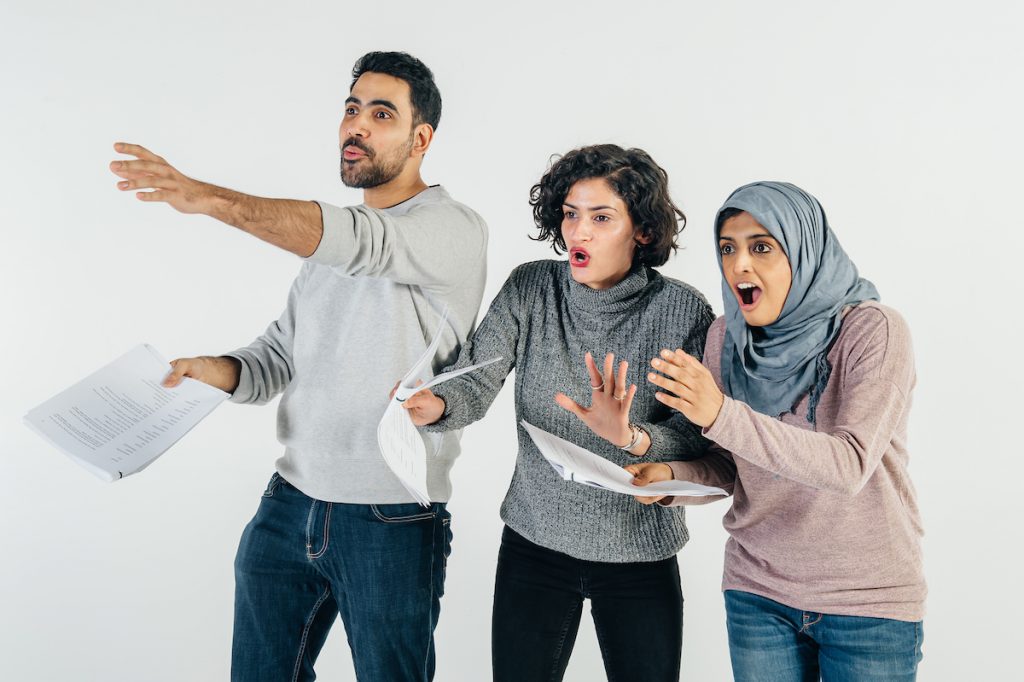 Kali is recruiting a new part-time administrator
Following the appointment of Samia Djilli as Assistant Producer at Tamasha, Kali Theatre is looking for an Administrator
This is a part time role. 2days or 16hrs/wk.  Exact days/hours to be agreed.
Kali develops and presents thought provoking, contemporary theatre by women writers of South Asian descent that reflects and comments on our lives today. This is an opportunity to join a small but busy theatre company making a real difference to diversity in the arts.
To apply for this post please email your cv to chris @ kalitheatre.co.uk with a separate letter attached describing why you want to join Kali and what you will bring to the company.
Deadline for applications  Sun 9 June
Interviews Fri 14 June
Full job description below.
The Administrator will occasionally be required to work outside these hours in the evenings and weekends. At these times the company operates Time Off In Lieu (TOIL).
Contract Period The appointment will initially be for 6 months. Performance will be reviewed after 3 months and the appointment confirmed for the remaining period if satisfactory.  If the review is satisfactory then an offer will be made to extend the appointment to 12 months or longer, subject to continuation of funding.
Salary £10,400 (Equivalent to £26,000 per annum full time)
Payment To be paid monthly on the 28th or the next working day if this falls on a weekend
Holiday 12 days per annum. 0.4 of full time holiday entitlement of 28 days including statutory holidays. Pro-rata for the initial 6 months.
Tax & NI These will be deducted as per the statutory rates
Pension Mandatory opt-in to statutory Kali Workplace Pension scheme. 2% employee contribution plus 2% employer contribution.
Sickness and Maternity Pay These will be as per the statutory provision.
Location  At the Kali Office in Deptford.
Self-Employment If you meet the relevant criteria this post can be undertaken on a self -employed basis with payment against monthly invoice for actual days/hours worked at a rate of £110/per full day of 8hrs. In that case the Tax/NIC and Pension clauses above will not apply.
Responsible to the Artistic Director and General Manager, and then the Kali Board
Responsibilities
The Administrator will undertake administrative duties across our productions, seasons of readings and writer development programmes, working closely with the Artistic Director and the General Manager.
Admin Support for Writer Development Programmes & Productions
• Issuing Writer contracts, Director Contracts and Workshop leaders agreements for Kali's annual Writer Development Programme based on pro-formas produced by the General Manager (GM)
• Managing casting process for productions, readings and workshops
• Issuing actor agreements for readings and workshops based on pro-formas produced by the General Manager (GM)
• Booking Rehearsal spaces for productions, readings, workshops and auditions, and maintaining chart of bookings
• Preparing & sending call sheets for rehearsals, workshops & readings
• Preparing & sending contacts lists for production & readings
• Liaison with writers & directors on Writer Development Programmes
• Preparing programmes for Productions & Readings
• Managing Comp lists for all shows/readings
• Plus any other reasonable administrative task in support of Kali's activity
Travel & Accom for tours
• Booking company accommodation & train tickets for annual touring production
• Preparing company info sheets for touring company
Databases & Regular Comms
• Updating information on the Kali website including Kali Blog
• Preparing & Sending Kali newsletters outside of specific project marketing periods
• Social Media posting outside of specific project marketing periods whilst contributing to the development/growth of all Social Media networks
• Sending on of information & opportunities to Kali Writer & Actor databases
• Maintaining Kali audience databases
• Sending VIP invitations to our Press/VIP nights
•Co-ordinating reciprocal marketing activity with theatre venues outside of outside of specific project marketing periods
Support to AD
• Supporting the AD with admin tasks
• Booking train fares and accommodation for AD when required
• Undertaking occasional research
Office Management
• Liaison with office building management, cleaners etc
• Ordering office stationary
• Updating the Kali archive
PERSON SPECIFICATION
Essential
• Minimum 1 year administration experience in arts or charity workplace
• Ability to work independently and collaboratively with the rest of the small Kali team
• Ability to manage own workload, prioritise tasks and work to deadlines
• Ability to communicate clearly, enthusiastically and positively via phone, email and in person with people from a range of backgrounds
• Flexible and willing to learn
• Experience of using social media
• Desire to ensure written communications have high standard of spelling & grammar
• Good level of computer skills including email, Word & Excel
• Good knowledge of a South Asian culture
Desirable
• Interest in theatre
• Experience of database management
• Experience of website management