Interview with Pooja Ghai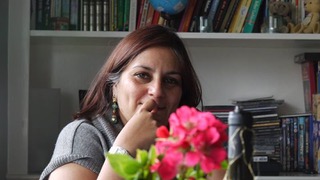 Pooja Ghai is an Artistic Associate at the Kali Theatre Company. Formerly she was the Associate Director of Theatre Royal Stratford East from 2015-2018. Her upcoming Productions include: Approaching Empty (Tricycle, Live and Tamasha Theatre, opening Jan 2018). We caught up with Pooja to talk about her upcoming staged reading, My HomeMade Kite . . . .
When you first read the script what was your reaction?
My Homemade Kite is a powerful and poetic story that reveals to us Krishnaveni's story. A Sri-Lankan woman whose life has been turned upside down by the war in her country. We discover this woman's story through her relationship with Joe, her colleague in the petrol station where she now works. The play explores what it is to be a refugee, to maintain your dignity, hope and survival, and how faith and determination are sometimes the only thing keeping us hanging on.
The play deals with some challenging issues to say the least, and in particular issues of the treatment of refugees and asylum seekers, how relevant are these issues to the UK today?
Unfortunately, these issues are hugely relevant today. We are in a Global refugee crisis and with the recent horrific events of our government and the windrush generation, the views on immigration in this country are deeply problematic. Our world has been plunged into war for many decades and we must never think that it is so 'far' away from us that it is not relevant. We are all responsible for the Global nation in which we live, and it is important that we understand the frailty that war leaves a society in. Syria is currently being bombed and stripped of its inhabitants, culture and heritage. As has Afghanistan, most of the Middle East, Palestine and many countries in Africa. We are in a global crisis – and the more we know about it the more we are able to take accountability and respond in one way or another about how we feel. We must not be blind to it or numbed by it.
Who is your favourite character in the play?
All of the characters have a voice that is important and speak volumes about their experiences or outlook. Therefore, they all resonate – I cannot say one is a 'favorite' over another.
What does a kite signify for you?
Freedom, childhood, hope, light, memory, sibling love, family, Home.
Did you know about the Sri Lankan civil war before your involvement with the play?
Yes I did, but I was unaware of the details and complexities of the situation.
The WAR plays have been written and directed by women, how do you feel about this?
I think it is great. We need more female voices on our stages so I think it is wonderful that they have been written by women and are directed by women.