Interview with Aileen Gonsalves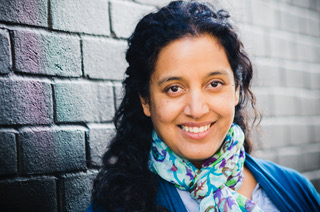 Aileen is an Artistic Associate at Kali Theatre. Her directing work includes Assistant Director to Tim Supple on Midnight's Children and Greg Doran on All's Well That Ends Well. RSC International and National Youth Ensemble director. RSC Director on the Scholars Pitch Project and A Midsummer Night's Dream Regional Schools Celebration. Founder and Artistic Director of Butterfly (www.butterflytheatre.com)- creating site-responsive theatre in caves, castles and ancient woodlands across the country and in mainland Europe.
How did you get into directing?
I trained as an actor at Central and belonged to some actor-led ensembles but we always needed directors and writers so I ended up doing that as well!
What do you think a performed reading brings to an audience that is different from a regular performance?
The actors don't need to know the lines so I believe they are then one hundred percent able to respond to the other actors without needing to hold onto control. Thus, allowing the relationships and connection in the text to really come off the page. Readings have the potential to be the most alive performances you can see in theatre. If the actors connect.
Who is your favourite character in Freedom?
Zara, her bravery is off the scale, her willingness to sacrifice everything for another person and for her beliefs. Her bravery is astounding from the first page onwards and her willingness to not judge others and their decisions very inspiring.
This staged performance is part of the Kali's WAR Plays season. What perspectives can women's voices bring?
We simply do not hear enough from women. They bring us a much needed other perspective. We have heard a lot from men over the centuries and we are still having wars. So let's hear some other voices. The mix then, the compliment, the contrast may help us see things more clearly. "Somewhere in all that talk is all the answers" (Elbow).