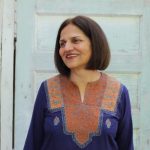 Rukhsana is a playwright, writer and translator. Stage plays include: Song for a Sanctuary, Gatekeeper's Wife, River on Fire, Mistaken: Annie Besant in India, Letting Go and From Kabul to Kunduz.
For BBC Radio, beside her original plays, she has adapted: Jean Rhys' Wide Sargasso Sea, Kiran Desai's The Inheritance of Loss, Salman Rushdie's Midnight's Children, Nawal El Saadawi's Woman at Point Zero and M. M. Kaye's The Far Pavilions. She contributed to the drama series: Westway and was lead writer for the serial: Piyaar Ka Passport.
Screenplays: Cassandra and the Viaduct (BBC). Amal's Story (RC Films) and Nadeem Aslam's Maps for Lost Lovers, (adaptation UK FC/Keel Films) Podcast: Trial by Fire (Historic Royal Palaces' Outliers series)
Fiction: Her first novel: The Hope Chest (Virago) and her anthology: The Gatekeeper's Wife (ILQA) are both highly regarded.
Her short stories appear in anthologies around the world: Right Of Way, The Inner Courtyard, Flaming Spirit, Walking A Tight Rope (UK) Leaving Home, Dragonfly in the Sun, (Pakistan) City of Sin and Splendour (India) And The World Changed (USA) Storywallah (Canada).
Translations: We Sinful Women: contemporary Urdu feminist poetry
The One who did not Ask, a novel by Altaf Fatima.
Awards: River on Fire Finalist, Susan Smith Blackburn International Award Wide Sargasso Sea Finalist, Writers Guild Award for Best Radio Adaptation Song for a Sanctuary Finalist CRE Award, best original radio drama
Rukhsana was RLF Fellow at Queen Mary, University of London. She has served on the Arts Council's Translation panel, Literary Magazines Committee and the Writers' Guild of Great Britain's Theatre Committee.
Rukhsana co-founded Kali Theatre Company and the digital archive: SADAA (South Asian Diaspora Arts Archive).    www.rukhsanaahmad.com
Agent: Diana Tyler at MBA Literary Agents
Kali Productions:
by Rukhsana Ahmad

February 2001